Why Your Business Needs a Website ?
Websites always work, No matter what is the type of your business or profession, a website can generate business, encourage customer compassion and prospects, and send strong marketing messages – whether your business is small, large or mid-established or young.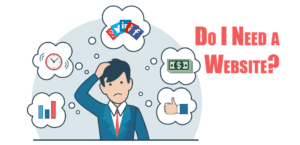 We understand the reasons you can resist building a website for your business: "I'm not technically frugal", "they are too expensive", "I do not have the time", or the infamous "I have enough business and I don't have need one ". The reality is you don't have to be a technical savvy; It can be cheap and easy to find a professional website developer for your business, and to make it even easier for you – not having a website will cost you time and money.
Havea look at the stats … 81% of people first prefer a to have a look at the website before making any purchase decision. So if you are not having a website for your business then you are missing 25.92 million people reaching you.
Below are the few reasons that you must have a website for your business to reach out to your customers.
Having a website will attract new customers to your business and help you to make more money.


We really like this statistic; we are mentioning it twice: 81% of people do search for online business or service before making a purchase decision. If you do not have a website, you have no chance of acquiring a share of this market.

Your website can be available to your customers 24/7 and will advocate your business to your customers during and outside the office hours.

Add instant credibility to your business simply by having a website.

The 21st century consumer is a skeptic; in fact, 56% of people said they do not believe in a business without a website. Having a good website immediately boosts your credibility as a legitimate business.

First impressions are numbered, and with websites you can create a really strong impression with a well-designed presentation for your business.

A website can help showcase your expertise and position your business better. A website can be your number one outlet in a crowd.

It's not as difficult, or as expensive to have a website as you think.

You don't have to be technically frugal about having a website. Many web development companies have very simple registration processes that make the process fast and painless for you.

It can be very cost effective. Websites provide a better return on investment than any other form of advertising. If you are planning to market your business, a website should be your first priority.

Over time, the relatively low investment to get an operating website will pay dividends by leading your new customers and building your brand. Moreover, it is a legal business expense and a tax deduction.

You can position yourself and can stay in control of your business.

A website serves as a platform for your messages and shapes the online perception of your business in a way that your social media channels cannot deliver.

The platform allows you to position yourself in the market to find the exact type of customers you are looking for.
IF YOUR BUSINESS IS NOT ON INTERNET, THEN YOUR BUSINESS WILLBE OUT OF BUSINESS – Bill Gates
Simply … you need a website and it's a lot easier to get one for your business. So if you want to get one for you business fell free to contact us or have a look at our services.