Why Do I Need a Web Designer & Developer?
If you are looking to redesign your website or create a new website for your bussiness, you may feel doubt the importance to website design.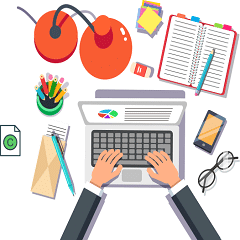 How does this affect your audience and business? Let's look at five reasons why web design is important.
1: It Sets the first impression of your business
Your website is usually the first thing a prospective customer sees before calling you – or your competitor. A well designed and developed website creates a great first impression with customers and supports your business and it's reputation. However, an unpleasant, slow or outdated website does not have good impression on your customers and they will not be willing to know about your businessand will move to your competitor website.
You will never get the second chance to make your first Impression.
A Website Design & Developemt agency can deliver a product that you can be proud of and that will help your business succeed. Professional web designers understand your needs in order to design & develop a website that accurately portrays your business and services
2: Spend more time managing your business
Designing and maintaining a website is time consuming and difficult. Design & Development management, optimization for Google (SEO), ensuring that your websites look good on all mobile devices and handle timely updates can easily become a full-time job.
Creating a website can be very easy to overlook if you do not have the necessary skills. Using web design expert services to create a professional and functional website can save you time that you can use to run your business.
3: Stay ahead of your competition
You may be surprised to learn that many small businesses fail to develop a successful online presence. Many free sites start strong but quickly become obsolete and are far from current and ever changing technologies.
Visitors will lost their interest if your website is not designed and developed well.
Hiring an experienced web designer or developer to create a professional, functional and user-friendly website for your business can give you a chance to superiority over your competitors.
4: Increase traffic to your website
Having a website that people can find easily is very important to grow your business. In order for your website to work well, it needs to have a strong presence in the search engines, fully optimized and SEO friendly. A high ranking guarantees that more customers will find your site.
Amazing Content Deserves Amazing Ranking
A professional web designer who knows the right SEO techniques to place your website in search engines like Google, Yahoo! to choose. and Bing, can increase the number of visitors to your site.
5: Improve Marketing, Branding and Visibility
Most businesses struggle to emerge in today's ultra-competitive advertising atmosphere. After the most successful business you will find a strong marketing strategy.
An extraordinary web design that is not based on a solid marketing strategy can hurt your business. Your website should match your overall marketing strategy and have your compliments with your other advertising channels. A professional website designer and developer will work with you to connect your traditional marketing with your online presence to bolster your brand and your online reputation across multiple channels and platforms.
If you are business owner or want to start the business then consider hiring a professional web design specialist to handle the look, logistics, growth, optimization and maintenance of your site and make your presence on internet worthy.